Hitachi DT-P300GXPJ Tank Type – Deep Well 300W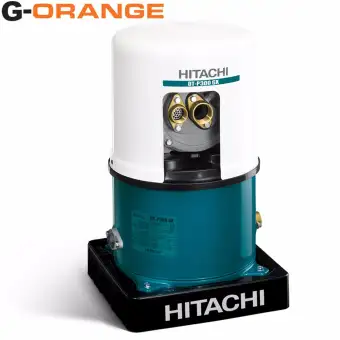 Hitachi DT-P300GXPJ Tank Type – Deep Well 300W [G-Orange]
Product details of Hitachi DT-P300GXPJ Tank Type – Deep Well 300W [G-Orange]
Tank Type – Deep Well
300W
Japanese Standard Quality
Reliable, Long-Lasting Safety
Reliable, Long-Lasting Safety
Especially designed for durability, longer service life and safety.
Reliable, Advanced Motor
Hitachi's motors are widely regarded for their high performance and long-lasting durability.
Rust-Resistant Bolts
The stainless bolts are rust-resistant and contribute to ease of maintenance throughout the pump's service life.
Thermal Relay
The thermal relay is an important mechanism inside Hitachi motors. It automatically disengages the motor when the temperature rises above the preset level and re-engages the motor when it is safe to do so.
Rust-Resistant Check Valves
Copper alloy check valves installed in water pumps are machined from a special alloy so you can rest assured that they will be rust-resistant and contribute to the overall durability of your water pump.
Water Temp Relay
The water temp relay temporarily pauses operation when it becomes too hot. This prevents deformation of parts due to overheating.
Ventilation Fan
Hitachi's specially designed vent fan works wonders in ventilating heat to ensure more effective operation and thereby prolong the motor's life.
Heat-Resistant Rubber Seals
Seals are made of heat-resistant materials. They are less likely to fracture so you will not be troubled by water leakage.
Specially Designed Pump Head
The single-piece, seamless, molded pump head made from special plastic and first-grade materials frees you from worries of rust and leakage while giving you superior water output.
Specially Designed Pump Cover
The pump cover has been newly designed to comply with the stringent IEC safety standard. The cover fits snugly on the body, enhancing safety during operation. A heat ventilation duct at the back also helps the unit to work more effectively.
Series : Tank Type
Model : DT-P300GX (PJ)
Motor Watt (W) : 300
Total Suction Head* (m) : 18/24/30
Total Discharge Head (m) : 12
Capacity (L/min) : 20/16/9
Pressure Switch (kg/cm2 ) : On:1.4, Off:1.8
Suction Pipe (mm) : 35 (1 1/4″)
Noise Level (dB) : –
Discharge Pipe (mm) : 25 (1″)
Taps Used Simultaneously**(Average) : For deep well suction storage used
Elevation Difference (m) : –
Dimensions (W×L×H, mm) : 384 ×384 ×628
Weight (Net/Gross, kg) : 31/36
* Measured at 12m.
** Based on the same usage and time. Normal water flow is 8L per minute per tap and this depends on usage condition.
Specifications of Hitachi DT-P300GXPJ Tank Type – Deep Well 300W [G-Orange]
Brand

Hitachi

SKU

HI950HLAC4W6IPANMY-168090604

Warranty Period

1 Year

Warranty Type

Local Manufacturer Warranty

Model

18-06-08-DTP300GXPJ
What's in the box
1 x Hitachi DT-P300GXPJ water pump